We are excited to announce an event for all parents during these difficult times right here on our GCPC YouTube Channel ("GCPC Video").
On Sunday, October 18 we welcome Michael Hayes, Alice Dixson, and Allison Sturtevant-Gilliam, as they lead us in an informative and transformative program on Trauma Informed and Trauma Responsive Parenting.  Michael Hayes is Executive Director of Umoja Health, Wellness and Justice Collective. He is a Certified Peer Support Specialist, Wellness Recovery Action Plan (WRAP) Facilitator, Reconnect for Resilience Skills Educator, and Founder of the Urban Arts Institute. Michael comes to the work of Adversity and Resiliency after learning about the ACE study while in prison…a turning point that changed Michael's life and helped him to put context to his experiences.  With lessons learned in his own life and from the experiences of the community, Michael became motivated to start the Umoja Health, Wellness and Justice collective, a place for connections to center the healing and resilience within the Black community.  Through trauma informed practice, building community connections, and recognition that what we have been through motivates us to heal, Michael hopes that we become a resilient community.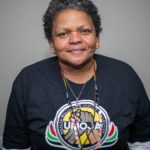 Alice Dixson is a Certified Peer Support Specialist, Community and spiritual activist, Bodyworker, Generational elder in a long line of Civil Rights activists, Executive Assistant at Umoja Health, Wellness, and JusticeCollective. Alice has worked with the juvenile justice system, as a member of the ACE Learning Collaborative, Board member of Be Present, a racial equity facilitator at a number of venues including the annual South East and New England Herbal Conferences, Earth Haven Ecovillage and a consultant for the Reconnect for Resilience training curriculum. Alice's passion for equity and healing shows up with compassion in all aspects of her work and for all people.

Allison Sturtevant-Gilliam is a white, able-bodied, the mother of five children currenting working to disrupt systems of oppression in the world of parenting. Allison, a social worker, believes that understanding natural responses to stress and trauma as well as the importance of connection are the key to parenting in a way that feels good for everyone involved.